SUCCESS STORY
Upgrading of infrastructure services in Scania company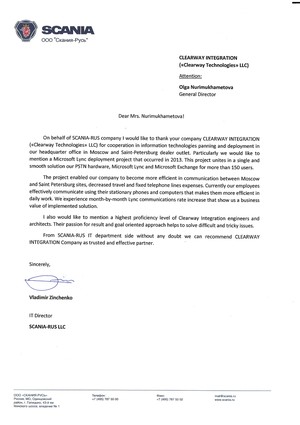 Scania group is one of the world's leading manufacturers of heavy trucks, city buses and touristic coaches, industrial and marine engines. The company operates in more than 100 countries.
In Russia Scania is represented by exclusive importer and distributor of machines - "Scania-Rus", which is a fast-growing company. It delivers high-quality machines of Scania group to Russian market and offers full range of services – from funding the purchase of machines and their maintenance to further buying out client's vehicles against further purchase of new Scania machines. In Russia there are a plant producing Scania machinery and more than 50 Scania dealers and service centers. In order to maintain high level of services provided to its dealers and customers, "Scania-Rus" pays a great attention to development of IT services.
Clearway Integration is longstanding partner of "Scania-Rus" in the field of IT development. In 2012 the comprehensive project of upgrading of IT infrastructure services of the company had been performed. Within the project scope virtualization system based on Hyper-V was deployed, Active Directory and infrastructure services were migrated to contemporary platform Windows Server 2012 and mail system was restructured and upgraded. By migration to the new platform Microsoft Windows Server 2012 and Microsoft Exchange 2010 IT departments of the company have received reliable and scalable infrastructure meeting today business and IT needs of the company.
Upgrading of infrastructure services invoked implementation of new leading services for the business of company's users. In spring of 2013 experts of Clearway Integration had performed the project of deploying of unified communication system based on Microsoft Lync Server and its integration with existing telephony system and mail system based on Microsoft Exchange Server. Realization of this project provided work groups of Moscow and Saint Petersburg offices with efficient communications that allowed reducing travel expenses and telecommunication services costs and created well-being and fruitful communication climate for collaboration of employees. Capacity of communications between offices increases month by month that confirms significance of this solution to business of the company.