SUCCESS STORY
Upgrading of the infrastructure core in URALCHEM company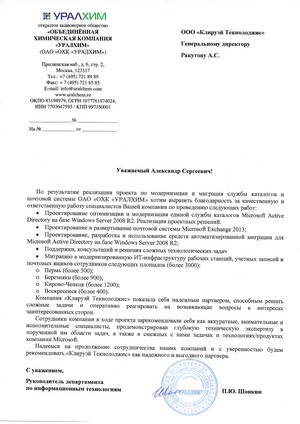 Open joint stock company URALCHEM Holding P.L.C. is one of the largest producers of nitrogen and phosphate fertilizers in Russia, CIS and Eastern Europe. The company is the largest ammonium nitrate producer in Russia and the second largest ammonia and nitrogen fertilizer producer in Russia.
The vigorous growth of the company during recent years had required corresponding support from IT service. Existing isolated IT infrastructure did not meet requirements of highly developing business, did not provide appropriate flexibility, manageability and reliability. Isolated IT infrastructures of branches and plants were great obstacle on the way of deployment of centralized business applications and services, unified accounting and reporting systems; they restricted interactions between users and increased time required to process requests. In order to access resources users had to work with several accounts that caused difficulties in management from administrators' side as well as made work of end users inconvenient.
In 2014, the IT managers of URALCHEM Holding P.L.C. decided to upgrade infrastructure's core including Active Directory and MS Exchange. Unified informational system combining all company's branches was opted for.
Specialists of Clearway Integration succeeded to design architecture with further deploying unified informational system. The key feature of project realization was availability of two data processing centers – in Moscow and Perm. The designed architecture provided users with transparent migration between DPCs in case one of them is unavailable. In addition to designing and deploying, Clearway Integration company had migrated branches into unified informational system. Overall number of migrated users amounted about 2500 people.
Users had several accounts in different domains and this appeared the main difficulty in migration process. Several accounts had to be merged into single one preliminarily identified as the main account; simultaneously access rights for different systems had to be kept correctly. Besides, specialists of the executor had designed unique procedure of migration of terminal user profiles being frequently used in all branches that allowed migrating users without interruption of work.
Migration of 4 sites geographically distributed over the country was performed centrally from Moscow and did not require visits of the specialists to the sites that allowed getting rid of business trips and reducing total budget of the project.