SUCCESS STORY
Restructuring of infrastructure within the scope of Sibur Anywhere AD project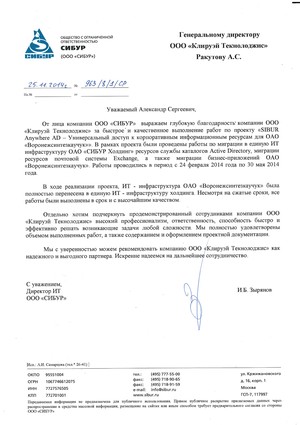 Open joint stock company "SIBUR Holding" (SIBUR hereafter) is a uniquely positioned gas processing and petrochemicals company with a business model focused on the integrated operation of its two core segments – feedstock and petrochemicals.
As of 31 December 2013, the Group operated 26 production sites, had over 1,500 large customers operating in the energy, automotive, construction, fast moving consumer goods (FMCG), chemical and other industries in approximately 60 countries and employed over 26,000 personnel.
Existing IT infrastructure in Holding is diversified enough due to autonomous developing at each branch. At the most part of branches there are local Active Directories. To provide centralization of IT support, to provide users in branches with access to Corporate center and to realize enterprise projects (such as ERP, ECM and others) it was decided to create Unified Active Directory for all branches. In 2012 the system's core Sibur Anywhere AD was deployed.
In order to perform migration of Voronezhsintezkauchuk to the unified Active Directory of SIBUR company, help of reliable executor capable to design migration procedure and perform works on a very tight schedule was required.
The main goal of the project was to migrate IT systems of Voronezhsintezlauchuk company into Unified Informational System including following steps:
Migration of Microsoft Active Directory providing access to both local resources of a branch and resources of the Corporate Center;

deploying of unified mail system and collaboration tools (single address book and calendar) based on Microsoft Exchange;
preparing of technical basis for realization of enterprise projects (ECM, ERP);
improving of manageability and security of the Holding's IT infrastructure;
Particular strict requirements to migration process were specified by the Department of Economic Security.
Experts of Clearway Integration managed to propose optimal migration procedures allowed meeting all requirements of the customer. As a result of the project, IT infrastructure of Open joint stock company "Voronezhsintezkauchuk" was completely migrated to unified informational system of the Sibur Holding just in 3 months. The particular confirmation of quality of the works and customer's satisfaction is further development of collaboration of SIBUR and Clearway Integration in other fields.